Eco-Luxury Master Suite in the Heart of the Gorgeous
Granite Dells near Prescott, Arizona…
Status: Available September 1st, 2017
Welcome to Heaven on Earth.
This was the #1 Master Suite in the entire Prescott area in 2015 until last autumn when it became occupied long term.
Located in private canyon that is Prescott's banana belt where its shady and cool in the summer yet sunny and warm in the winter, the Gorgeous Granite Dells, "Prescott's Little Sedona", this Master Suite is situated at the end of a cul-de-sac in a granite canyon surrounded by hundreds of acres of parkland and trails. The interior is light and bright with breath-making forest and national park-like private canyon views in all directions.
Enjoy the indoor WHIRLPOOL/JACUZZI in the corner of the MASTER SUITE with huge view windows in both directions. Plus a full-sized, beautiful cherry KITCHEN, marble & granite counter tops. The LIVING ROOM area is surrounded by incredibly wild vistas and green canyon views which are also seen from the fence-free, in-ground SWIMMING POOL and SPA and surrounding flagstone patio.
The new highly efficient CENTRAL AIR CONDITIONING is rarely needed due to the CATHEDRAL CEILINGS throughout, plus superior insulation and the well-shaded location.
The south facing roof features SOLAR PANELS which require no maintenance and provide the electric power. Additional features include remote control opening skylights, sky tubes, blue grass lawn, decks, patios, hammock, trampoline, trails, wildlife, fruit trees and organic gardens.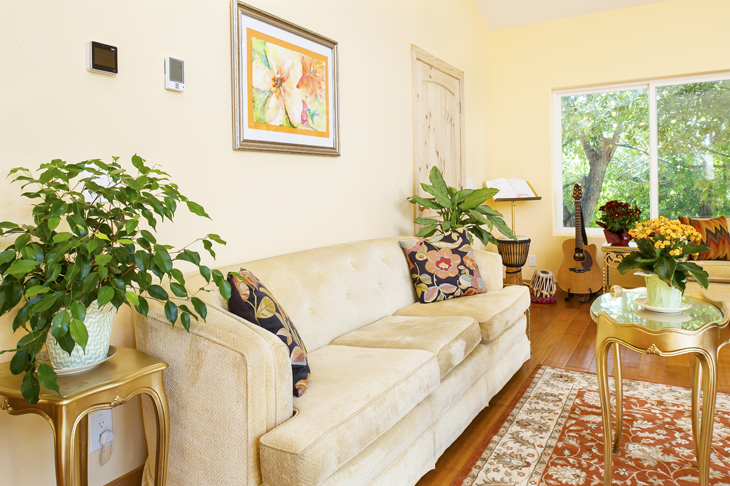 This suite is situated in a PRIVATE NATIONAL PARK-LIKE SETTING inside a labyrinth of lush canyons called the Granite Dells at the end of a quiet country road 5 easy miles from downtown Prescott.
Cozily situated beneath towering trees in a serene wildlife sanctuary that attracts an entertaining array of mammals, birds and butterflies, this quiet retreat-like ambiance features unique canyon, pond and jungle-like views of the magnificent open space park land in several directions.
The pool is surrounded by pastel flagstone patios and whimsical flagstone walkways leading to lawns, decks, organic gardens, fruit trees, hiking trails, a pond, a hammock, a nearby stream and peaceful no-wake Watson Lake just one spectacular mile hike, bike or drive away where sailing, kayaking, rock climbing and windsurfing are enjoyed.
Hundreds of miles of quiet hiking and biking trails surround the premises, as do cliffs in this rock climbing paradise. Bicycles are available for guests. Plus, hiking, bicycling, and rock climbing guiding service are available upon request along with massage and guided foraging, yoga and meditation on the trampoline, decks and patios as well as along the trails and on the cliff tops.
This new ecologically-built home is light and bright with many spacious windows framing in exquisite private canyon views in three directions!
Imagine granite and swirled-marble counter tops, brass faucets, gold and crystal knobs, wooden palm leaf ceiling fans on the majestic cathedral ceilings that reach up to spacious decorative lofts and alcoves.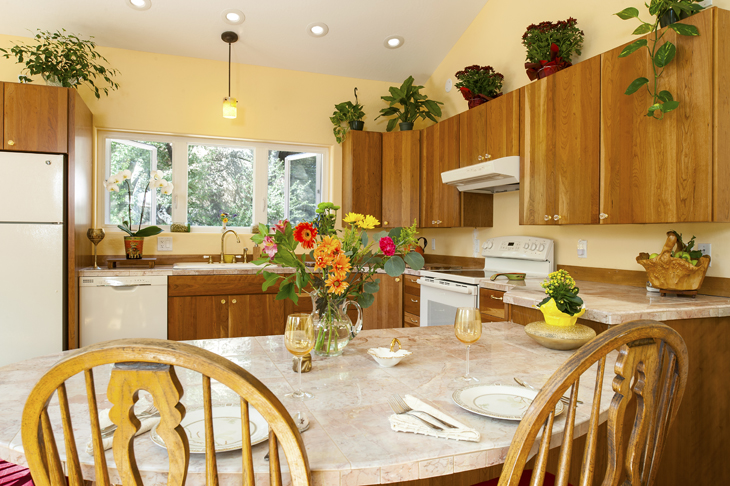 Relax on a variety of lounges in the on your private patios among dozens of fruit trees, plus oaks, pines, cottonwoods, willows and towering cliffs, in flower gardens beneath shade trees in the hammock, in one of the many cozy, bouldery meditation nooks around the pond, at a dining table in the sunshine, on the sunbathing oval lounge ideal for an afternoon nap on the adjacent deck on a warm winter afternoon, or at a picnic table beside the seasonal creek beneath tall trees.
For your enjoyment, there are plenty of lounge chairs and tables not only around the pool but also in private nooks and secret boulder gardens coves, plus convenient parking, free high speed internet, optional landline phone, city water, trash pickup and free new laundry facilities. Feel free to pick fruit from the many summer and fall-fruiting trees.
Healthy, cheerful, quiet ambiance. SMOKE-FREE, DRUG-FREE, PET FREE premises. We love outdoor pets; however, there is too much wildlife in this sanctuary for them to visit or stay here. If you intend to travel with pets of any kind, if you smoke or will be smoking or are trying to quit, or if you take drugs of any kind, please refrain from responding to this ad. Otherwise, welcome to Heaven on Earth!
Google "Granite Dells" to check out the incredible scenery and look at the beautiful photos below. Download and Read the 12 page architectural feature article from Oct/Nov 2015 Issue of Prescott Woman Magazine.
One Luxuriant Master Suite Now Available
You can rent a fully appointed 1,350 sf MASTER SUITE to accommodate those who would like to stay for a month or longer in this serene, verdant, national park-like ambiance featuring dramatic private canyon vistas, an in ground pool, trampoline, hammock, lawn, lounges, bicycles, boats, and trails starting right at your door.
Check out this listing complete with descriptions and photos of each suite.
1,350 sf MASTER SUITE with full Kitchen, Living Room and Whirlpool/Jacuzzi
Granite Dells Guide
Consider joining a delightful array of Granite Dells Guide offerings including hiking and bicycling mini-adventures in Prescott's gorgeous Granite Dells comprised of a labyrinth of granite cliffs and canyons that go on for miles boasting some of the most spectacular scenery you will find anywhere on Earth. Private sailing, windsurfing and
kayaking mini-adventures can be yours upon request on our inflatable regatta on nearby Watson Lake (Google Watson Lake images for a visual treat).
Wishing you a delightful day! Feel free to call or text Happy and John at 928.308.2146 to rent part or all of the entire home at Heaven on Earth or request a custom tour with your personalized Granite Dells Guide. You are welcome to stay for an afternoon or evening to luxuriate around the pool, fruit trees and gardens during our many exquisite community gatherings.
Luxuriate in a Labyrinth of Canyons!
---