Eco-Luxury Sunroom Suite in the Heart of the Gorgeous
Granite Dells near Prescott, Arizona…
Status: Available June 1st, 2018
Welcome to Heaven on Earth.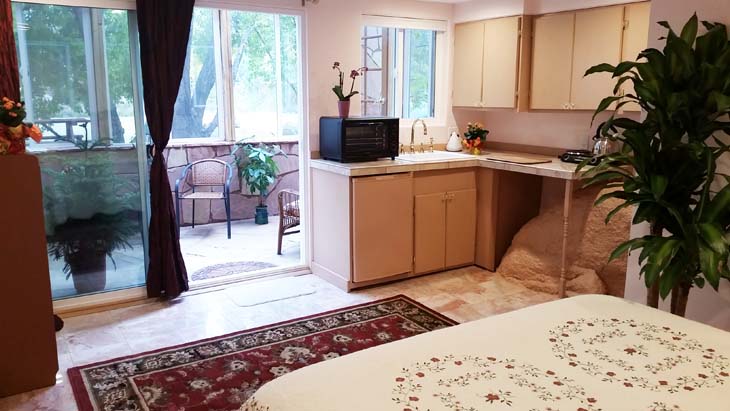 This sparkling new four-room 1200 sq ft Sunroom Suite may be Prescott's most spectacular, serene and verdant canyon paradise featuring a private national park-like setting inside a labyrinth of canyons at the end of a quiet road. This easy-access suite is surrounded by Prescott's most spectacular wilderness – the Granite Dells – yet is located only 10 minutes from downtown Prescott.
Located in Prescott's banana belt, this Sunroom Suite additionally features an spacious south-facing flagstone sun room with an enclosed raised bed garden. In the summer the sun room is covered and deliciously cooled by a canopy of deciduous trees. However, in the winter, thanks to the deciduous trees, this south-facing sun room feels as warm as Phoenix so we call it the "Phoenix room". Unlike much of Prescott, there is no need for a snow shovel here.
Built in 2015, this eco-suite's exterior is comprised of local pastel flagstone siding with beautiful new marble tile floors in the bedroom, bath and living room, plus handsome new hardwood floors in the kitchen and dining room. Marble and granite counter tops throughout. Golden and glass knobs. On-site laundry facilities with new washing machine, dryer, sink, library, clothes drying racks, ironing and folding counter.
A new maintenance-free rooftop solar array powers the house. Covered parking is conveniently located just a few feet from the suite. High speed internet, phone, city water, electric and trash service are shared expenses.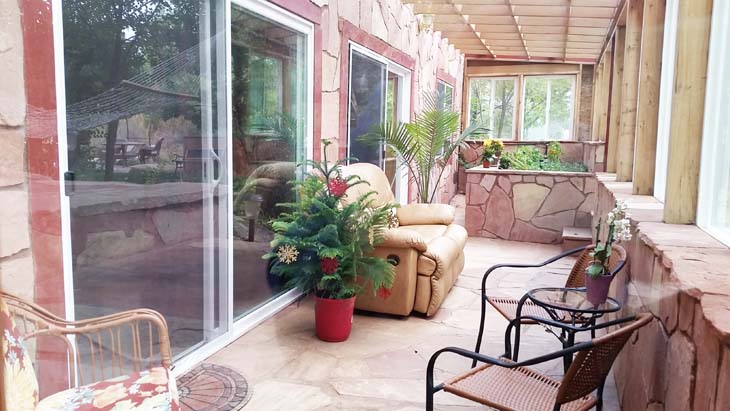 Cozily situated beneath towering trees in a serene wildlife sanctuary, the retreat-like ambiance features an in-ground swimming pool with incredible views. The POOL and SPA are surrounded by flagstone patios and whimsical flagstone walkways leading to lawns, decks, organic gardens, mature native trees, fruit and nut trees, miles and miles of hiking trails, a seasonal pond, a large hammock, a trampoline.
A seasonal stream flows through the premises. An additional year-round creek is just a 2 minute walk away. Lake Magnificent (Watson Lake) is but a spectacular mile hike, bike or drive away where sailing, kayaking and windsurfing are enjoyed. Boats and bicycles are available for your enjoyment. Hiking and biking trails surround this Sunroom Suite, as do precipitous cliffs in this rock climbing paradise. Amazing clifftop views of the labyrinth of canyons surround the retreat.
Health loving, yoga friendly, joyous, serene ambiance ideal for quiet professionals, active retirees and nature lovers at this wildlife sanctuary. Smoke free, drug free, pet free premises.
This freshly-built Sunroom Suite is a little known Paradise just outside of the city of Prescott, yet a world away!
Google "Granite Dells" to check out the incredible scenery and look at the beautiful photos below. Download and Read the 12 page architectural feature article from Oct/Nov 2015 Issue of Prescott Woman Magazine.
One Exquisite Apartment Now Available
You can rent a fully appointed 1200 sf APARTMENT to accommodate those who would like to stay for a month or longer in this serene, verdant, national park-like ambiance featuring dramatic private canyon vistas, an in ground pool, trampoline, hammock, lawn, lounges, bicycles, boats, and trails starting right at your door.

Check out these listings complete with descriptions and photos of each suite.
1200 sf SUNROOM SUITE with Kitchenette
Granite Dells Guide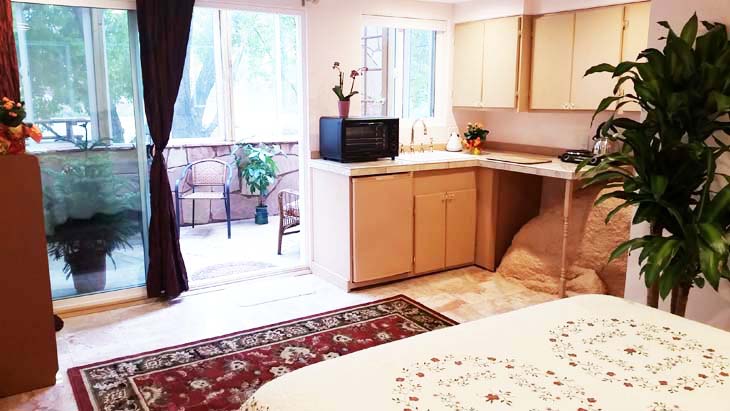 Consider joining a delightful array of Granite Dells Guide offerings including hiking and bicycling mini-adventures in Prescott's gorgeous Granite Dells comprised of a labyrinth of granite cliffs and canyons that go on for miles boasting some of the most spectacular scenery you will find anywhere on Earth. Private sailing, windsurfing and kayaking mini-adventures can be yours upon request on our inflatable regatta on nearby Watson Lake (Google Watson Lake images for a visual treat).
Wishing you a delightful day! Feel free to call or text Happy and John at 928.308.2146 to rent part or all of the entire home at Heaven on Earth or request a custom tour with your personalized Granite Dells Guide. You are welcome to stay for an afternoon or evening to luxuriate around the pool, fruit trees and gardens during our many exquisite community gatherings.
Luxuriate in a Labyrinth of Canyons!
---