Blissful Book Reviews for Bliss Conscious Communication!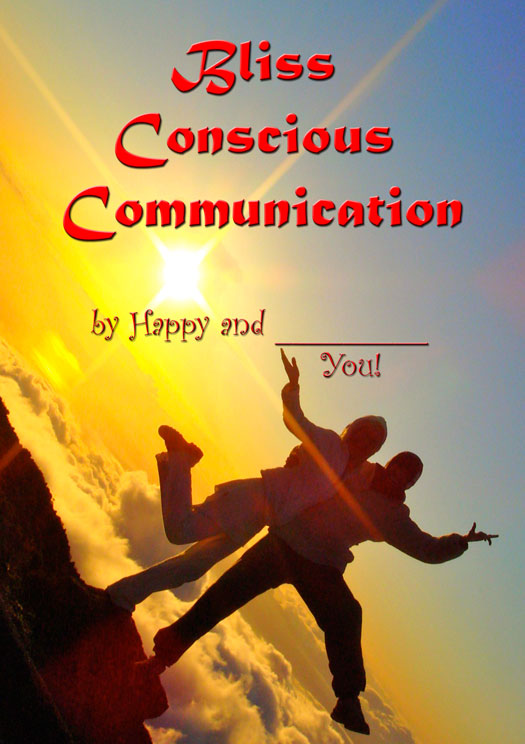 Bliss Conscious Communication may be the most important book you will ever WRITE! This provocative interactive playbook is guaranteed to raise your conversational kundalini.
Considered The Guide to conversational alchemy, Bliss is a treasure trove of dynamic techniques for making magic of everyday conversations. Copies of this spectacular, expanded & enhanced new edition are now available here:
Buy Bliss Conscious Communication direct from the author for $25 (includes shipping anywhere in the USA)
 Questions? Comments? Testimonials? 928.308.2146 or happy@happyoasis.com
Resplendent Reviews by Leading Luminaries for Bliss Conscious Communication:
"When birth certificates are given, this book should be standard issue, too. It is a handbook for human happiness, an exercise in fertility, and a ball of light in your hand. Read and be transformed." – Michael Modzelewski, Discovery Channel Host, Author, Celebrity, Frequent Oprah Guest & Extreme Adventure
"Bliss Conscious Communication, I love it! Bless Blissology University, Bliss U!" – Ram Dass, spiritual teacher & author of Be Here Now and Be Love Now
"Happy's wisdom is deep. Deepak deep. She may even be deeper than Deepak… you might call her Deeperpak." – Steve Bhaerman (Swami Beyondananda), cosmic comedian and co-author of Spontaneous Evolution with Bruce Lipton
"I was delighted to feature Happy Oasis as one of "America's Happy 100″ in my book Happy for No Reason. In Bliss Conscious Communication, she shows us how deep and lasting happiness is rooted in our thoughts and offers us easy steps to deepen our experience of happiness, joy and bliss." – Marci Shimoff, #1 NY Times bestselling author of Love for No Reason and Happy for No Reason
"A force for happiness and exuberant exhilaration for the soul! Why enjoy ecstasy for a night when one can experience ecstasy for a lifetime? For the sake of harmony with humanity, may we all master the Blissiplines within this book." – Mirabai Devi, author and spiritual teacher of South Africa and Kauai

"Bliss Conscious Communication is the quintessential ground-breaking phenomenon that is giving birth to today's budding new field of Blissology."– Johnny Liberty, renaissance man and author of Sovereign's Handbook
"In each generation we are given the medicine for the healing of our generation. This is the healing and liberating medicine of now and for this generation." – Rabbi Gabriel Cousens, author, orator, founder of Tree of Life, M.D., M.D.H., D.D.
"Bliss Conscious Communication is not only fun to read, this book is call to action, to discover the ecstasy of ethics as well as the uplifting, powerful results of being creatively considerate and astonishingly polite. These pages are filled with recipes for shifting our words to better reflect the possibility that life holds, and the robust opportunity for positive, purposeful creation." – Kimberly Carter Gamble, producer, director and co-writer of the movie, THRIVE
"Conscious communication transmutes duality into oneness. This book guides you to that quintessential reality. Enjoy!" – Dr. Jacob Liberman, author of Light: Medicine of the Future, Take Off Your Glasses and See and Wisdom From an Empty Mind
"Bliss Conscious Communication is worthy of memorizing and utilizing in our every day, moment-by-moment living. By practicing these principles we help open the door for the highest to express through us. Thank you, Happy, for writing such a powerful book and thank you, Reader, for co-authoring it, thereby co-creating a more joy-filled world." – Dr. Richard Anderson, author of Cleanse & Purify Thyself and founder of Arise & Shine
"Happy Heavenly Oasis is a vortex of delight whose years of meditation immersion has naturally lead her toward expanded awareness and radiating bliss. A decade ago, the first edition of this book invited the reader into what Happy calls Blissology. This second edition continues to deeply explore blissful living and how to share it with others. I highly recommend delving into it and the many Blissiplines within." – Sarah McLean, author of Soul Centered
"At last! A book about communicating for heaven's sake." – Toni Toney, author of The Ecotarian Diet
"Happy Oasis has gone where others must not fear to tread. Bliss is the new "10" – consummate elation – and Happy conveys this better than anyone. All of us would be wise to reach for bliss as a way to blend and bend in times of change. Bliss is not out of our reach. It is our natural way of being, and Happy is here to remind us that bliss is our birthright." – Stephanie Sutton-Flanagan, founder of Planet HeartWorks and chair of Flantech, guiding the work of her husband, Dr. Patrick Flanagan
"Happy inspires us to have a Blissipline wedding with our higher selves. May we cosmically juggle the linguistics of this soulful journey, extracting the sprouting spirit of infinite possibilities, to distribute high vibrational smiles while expanding the mental music she has offered for our co-creativity. The art of Blissology is a key nutrient in the realm of youthing and vitality." – Viktoras Kulvinskas, author of Survival Into the 21st Century
"What a joyful riot and profound adventure it is to participate in the Playshop For Blissologists that accompanies this book. After the class, we received our 'Certificates of Bliss' awarded by committing to co-author the rest of our unique versions of this playfully-interactive book. Upon completing it, my brother and I were so delighted to be Certified Budding Blissologists, that we immediately framed and hung our diplomas in our offices. Happy Oasis is an oasis of happiness; a kind-hearted, creative, bliss-filled, shining spirit dedicated to sharing uplifting language evocative of bliss. The loving frequency with which Happy laughs and lives is contagious. Be prepared to receive an upgrade in the Bliss Department and a first class passport gliding you into the feeling tones of satchitananda – truth, consciousness and bliss." – Meenakshi Angel Honig, yogini, wellness author & consultant, certified Blissologist, and professor at Bliss U
"Happy opens up new worlds of possibilities with her uplifting, infectiously love-of-life-affirming heart, inviting us to try on bigger, more beautiful, magical versions of our true selves." – Larisa Stow, songwriter, singer and inspirational musical leader of the Larisa Stow & Shakti Tribe Band
"This is the best book we have ever read and "co-authored" for inspiration, self help, and the power of the spoken word. We have hundreds of books on our shelves. We recommend this Have-To-Read-In-Your-Lifetime-Book to our clients and community, not only to read but to co-write, then re-read and re-write. It's a foundation of joyous sharing for families, church groups, high school, college, university, therapy, spiritual and community gatherings! May you enjoy co-authoring this juicy, fun, promising, hopeful, and transformational book as much as we do." – Rev. Kedar and Shelley St. John, founders of Maui's Temple of Peace

"Happy's infectious love of life is an inspiration. Our world could be a more harmonious place if we all adopt Happy's Bliss Conscious Communication tools and suggestions. – Scott Catamas, Emmy award-winning writer and loving communications coach
"Marvelously-inspiring to the soul! This outstanding journey delights and dares us to rewrite the script of our lives into a joyfully bliss-filled existence. Every page is a courtship of the Divine, seducing us into a state of thriving. By illuminating the magic that comes from the words we use and the thoughts we think, Happy Oasis helps us sculpt a masterpiece of communion with our highest selves." – Katrina Blair, author, environmental solutions leader, organic farmer, musician, teacher and founder of Turtle Lake Refuge
"An international treasure." – Ricki Burleigh, Wisdom-keeper
"Bliss Conscious Communication is medicine of the future… A treasure trove of easy techniques for making magic of everyday conversations." – Elijah Ray, singer and superconductor of the Band of Light
"Beyond the realm of normal words… bliss-inducing and scrumtrulescent." – Zander Hathaway, co-founder of The Well Tree
"Shimmeringly transformative to the core, this book serves as a compelling invitation that dares us to live in ceaseless delight. The author creates a great case for the possibility of living contentedly and exuberantly all day long." – Stella Diamond, founder of Stella Diamond Yoga
"Happiness is our birthright. All rights reserved,' reads the very first sentence of this book. This immediately sets a tone of empowerment, pointing the way up toward glistening oneness hidden behind the diversity, thereby bringing us home to the realization that bliss conscious communion is an essential and joyful celebration." – Happyz, author of Dreamz for the Awakened Soul.
"An ingenious, high-powered generator of gumption, gladness and generosity, especially appealing to those who aim to contribute to a more loving world. The author guides us to rethink our relationship with the way we share language with each other." – Heidi Hohani, author of Awaken Your Royalty
"Since taking the Playshop For Blissologists, becoming a CBB (Certified Budding Blissologist) and plunging into this Bliss book, it feels as if I've entered into a wonderful new world! My husband and I have been experimenting with these simple yet powerful bliss-invoking techniques. When a fellow briskly walked up to us today, quickly asked, "How are you?", then whizzed by almost at a trot, my husband shouted out, "What a wonderful question! Thank you for asking!" The fellow stopped in his tracks. He turned and smiled at us, then came back to dive into a heartfelt conversation, thereby marking the start of a new friendship. This happened with several people today. These bliss tips are pragmatic, ecstatic, easy and fun. We can testify first hand that Bliss Conscious Communication offers a deeper, more consciously-loving way to authentically connect." – Michelle Newman & Eliahu, certified Budding Blissologists
"Don't just buy this book, grok it, and you will find bliss fields blooming in your mind and heart. The Blissipline Prophesy has been fulfilled with this publication. Read at your own blissk." –  Tony Carito, inspirational comedian, Swami Beyond Sedona, philosopher & artist

"Fasten your blissbelt to receive tantalizing revelations of how to live as a dynamic pragmatic ecstatic! Happy is waking up the world composing language of divine delight. " – Wowza, author
"Ms. Happy is your personal guide to a world of unencumbered, uninhibited bliss-forward spectacularity. She will stop you in your tracks, guaranteed." – Dave Weber, producer/engineer
"Astonishingly heart-opening and astoundingly fun." – Lisa Wade, president of ImpactAVillage.org and co-author of A Story of Hope- the Journey of a Lost Boy of Sudan
"A playfully-insightful journey for the soul, brimming with delicious, conscious, heart-opening tools." – Anahata Ananda, Shamangelic guide
"Happy O lives and writes from her heart. She puts love into life, and life into love. Her bliss will become your bliss when you read & co-author the bliss within." – Chef Mimi Kirk, raw vegan longevity author
"What an efficacious transmission of enlightenment in a humorous and pragmatic way. This empowers us to ameliorate our lives and world with ease and pleasure by simply (carefully and artfully) choosing transformational vocabulary, starting with the ongoing conversations in our very own minds." – Katharine Clark, health researcher & educator
"A glorious adventure that demonstrates humanity's potential for conversational magnificence and deep sharing of unconditional love." – Aeoliah, recording artist, composer, author & visionary artist
"A blissful breakthrough in the art of communication, ushering in a paradigm shift in conversational communion that is not only effectual, meaningful and authentic, but also profoundly inspirational." – Ananda & Janaka, evolutionary gardeners of the heart
"Ecstatic communication at it's blissful best. The delicious thought-provoking exercises inspire me and my loved ones to expand our ideas of who we truly are." – Daniel Posney, healing artist
"Exhilarating and educative… Quantum energy fields beam from this ground-breaking book." – Dr. Elizabeth Lambaer, author of Skinnydipping In The Fountain Of Youth
"Masterfully draws out the love and childlike innocence inherent within us, based on the author's firsthand experience as an Adventure Anthropologist living with indigenous cultures. Happy Oasis embodies vibrant health, radiant beauty & co-creation with the Divine in a way that connects us with our Higher Self. While participating in Happy's Playshop for Blissologists, I experienced the great joy generated when we choose to use Bliss Conscious Communication. Especially during this global shift of awakening, I most highly recommend Happy's heart-connecting book and Playshops For Blissologists". – Jerilee Camille, composer & herbalist
"A promise of peace, and a marvelous friend with whom to take flight." – Edrees Sabawoon, peace philosopher, Afghanistan
"Completing the sublimely simple steps in this book will reveal how to be the inspirational lifeblood of your own conversations." – Laura Lamun, singing herbalist
"Very few things in life exceed our expectations. Thank you, Ms. Bliss!" – George Parker, compassionate businessman
"Infinitely inspirational and creative, Happy Oasis is a renaissance woman who has the unique ability to approach each day with optimism, and splendid cheer. Herein she gladly demonstrates with a grin how to be our own best Blissologist. The Blissipline endorphins within this book raise readers' spirits into heavenly highs. Bliss Conscious Communication is my daily trip to elation and the sutra of my soul." – Sher Shah Khan, Raw Spirit Festival manager, yogi and artist
"While learning Bliss Conscious Communication at a playshop, slowly, an illuminating light started shining within me, changing my perspective about how we communicate, inspiring me to live each moment with blissful presence. When we change our habits of communication, especially by transmuting what we say unconsciously into bliss-consciousness, we begin to awaken a seed that leads us to perceive, speak and live our divinity. This leads to states of happiness, joy and appreciation for all." – Gissela Torella, bi-lingual author of Su Naturaleza Real (Your True Nature) from Columbia, South America
"Mientras aprendía Comunicación Consiente En Gozo, poco a poco una luz se iluminaba dentro de mí, cambiando mi perspectiva como nos comunicamos y me inspiro a vivir mi momento presente con gozo. Cuando cambiamos nuestros hábitos de comunicación, especialmente cuando transmutamos lo que decimos inconscientemente a conciencia en gozo, comenzamos a despertar una semilla que nos lleva a vivir reconocido nuestra divinidad y la de los otros, esto nos transporta a comenzar a despertar una semilla que nos lleva a sentir, hablar y vivir nuestra divinidad. Esto nos traslada a un estado de felicidad, gozo y apreciación por todo." – Gissela Torella, author of Su Naturaleza Real (Your True Nature)
"Happy is a great influence in my life. Happy is the hardest working peace-maker and bridge-maker I know, helping the world be a better place. May you enjoy the bliss within." – Wendy Daughtery, singer & songwriter
"Fabulous and insightful!" – Aleya Annaton, Nassim Haramein Emissary and author of The Technology Of God
"This bliss is the currency of the future." – Aeon Phlo, philosopher
"Promising and essential." – Brother Northstar, international peace walker and peripatetic poet
"A magnificent journey into the heights of how to create conversational heaven on earth. As Happy says, Bliss Forth with Love!" – Mia Margaret Angelica, performer and author of Don't Worry, Be Happy
"A life-changer for me and for everyone I interact with! Wow! How does it get any better than this? In Joy!" – Kazzrie, CBB, one of thousands of Certified Budding Blissologists who have received Degrees of Bliss via Blissology University based on the book Bliss Conscious Communication by Happy Oasis
Buy Bliss Conscious Communication direct from the author for $25 (includes shipping anywhere in the USA)


   Questions? Comments? Testimonials? 928.308.2146 or happy@happyoasis.com
                                                                                         Bliss Forth with Love!